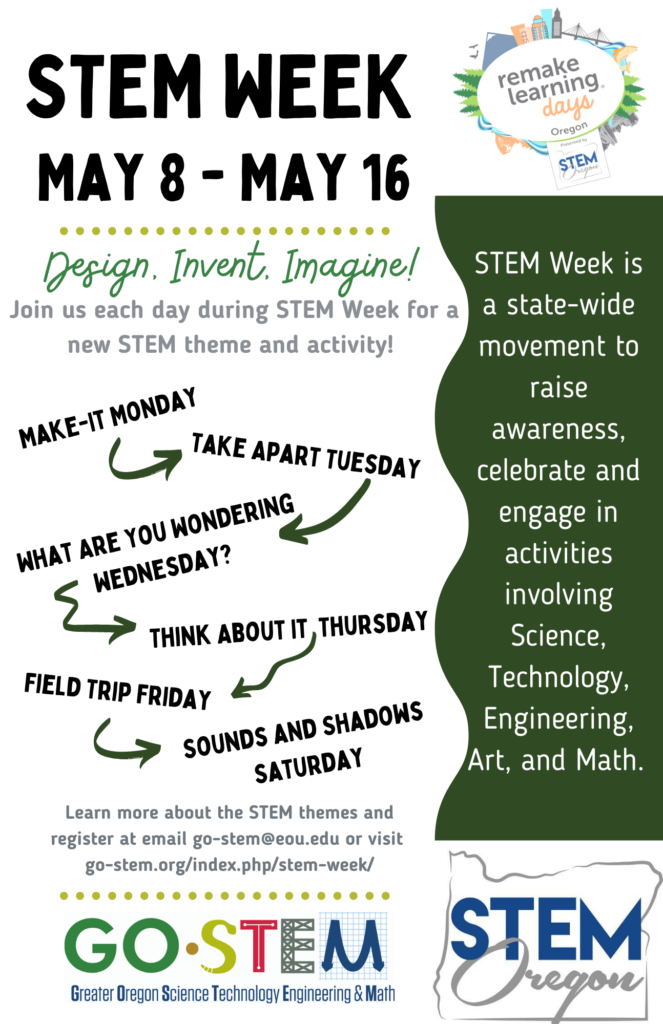 STEM Week Oregon, May 8th – May 16th, 2021
Welcome to the 7th annual STEM Week Oregon, a state-wide movement to raise awareness, celebrate and engage in activities involving Science, Technology, Engineering, Art, and Math. This year, we are thrilled to partner with ReMake Learning Days Across America for the first time!
STEM Week Oregon 2021: Design, Invent, Inspire!
Celebrate ​STEAM and community learning with all Oregonians! Daily prize winners will be drawn for registrations, and featured STE(A)M Activities will be highlighted on STEMOregon.org.
Oregon STEM hubs have partnered with national leader ReMake Learning Days Across America to supercharge STEM Week Oregon 2021! ReMake Learning Days brings national partners such as Common Sense Media, PBS Kids, Noggin, Learning Heroes and 16 regions together to create the world's largest hands-on learning festival for youth and families across America. The festival celebrates in and out-of-school educators for the work they do with students pre-K through 12th grade.
We are launching the 7th annual STEM Week Oregon early this year with our first ever Launch Event! During this one hour virtual event participants will be introduced to innovative and exciting ways to remake and reimagine learning through STEM. Participants will hear from Talent City Maker's program director, Allison French, and have the opportunity to participate in small group conversations focused around this year's STEM Week.
Please click button below to register and apply! Or email Hattie Tehan hattie@futureschoollab.com
Join us for a new theme each day! Register for each day you participate in!
See below for 2021 Daily Challenges!
What Are You Wondering Wednesday?
¿Qué Se Está Preguntando?
Miércoles
Click on each day for suggested Challenges, Activities, & Virtual Career Exploration and Field Trips.
More STE(A)M activities of all kinds? Go Here
All you need to do to participate is sign up! Let us know what you are doing: with your family, your class, your neighborhood. Participate in daily themed challenges and submit photos and videos of your work to our Celebrate STE(A)M Gallery, or do your own thing and tell us about it! STE(A)M is all around us- explore it! All entries are eligible to win prizes! More activities = more chances to win!