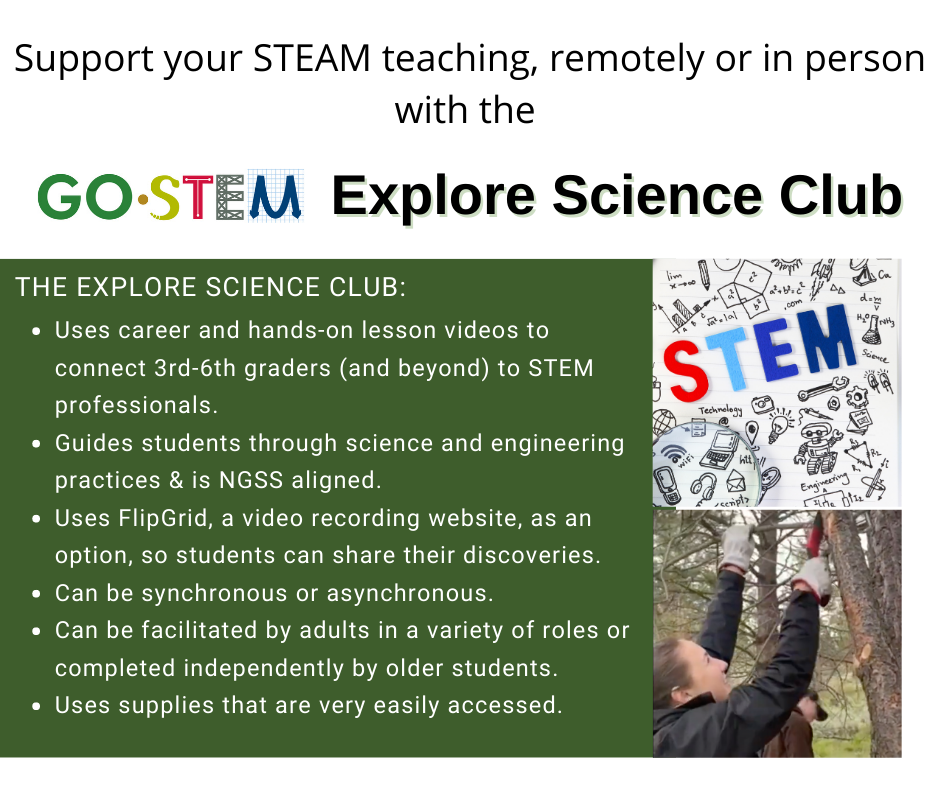 ---
How do we connect real STEM professionals to students? How do we get the students engaged in explorations that inform about the professional's work in STEM? How do we help students share what they have discovered and constructed from that experience? Explore Science Club!
Teachers! Access the Explore Science Club materials here.
Families! Access the Explore Science Club materials here.
Let's walk through Explore Science Club! with an example to show you how it works. Students are invited to watch a video of a STEM professional. This personal tour through  a day in their work connects students with a real person that is talking to them. In this example, wildlife biologist, Laura Navarrete describes her work with the white headed woodpecker.


You can see the whole video at:  Bird Biologist Career Video
The students are then invited to a lesson sequence. Carrie Caselton Lowe challenges the students in a short video lesson. In this example, she asks students to find a place to sit in a natural area and listen for birds while making a sound map.
You can see the whole video here:
Bird is the Word Discovery Challenge
The program can be adapted for classroom use, after school clubs, or for family home activities.  Each lesson sequence encourages students to explore, learn STEM content, and apply their learning with career connected challenges. When complete, students enter their findings on Flipgrid, a video platform where they can share their discoveries. These shared experiences enhance the sense of community with others and reinforce what they are learning and doing.
All of this is arranged in a portal designed by Carrie and GO-STEM. See Bird is the Word Discovery Portal -for the portal on the web.


Interested? Contact
Carrie Caselton Lowe (she/her)
Career Connected Learning Facilitator
Greater Oregon STEM Hub
Email: ccaseltonlowe@eou.edu